Here's How You Can Win Up to $1.2M from BC.GAME's RIO Carnival Beginning This Feb 17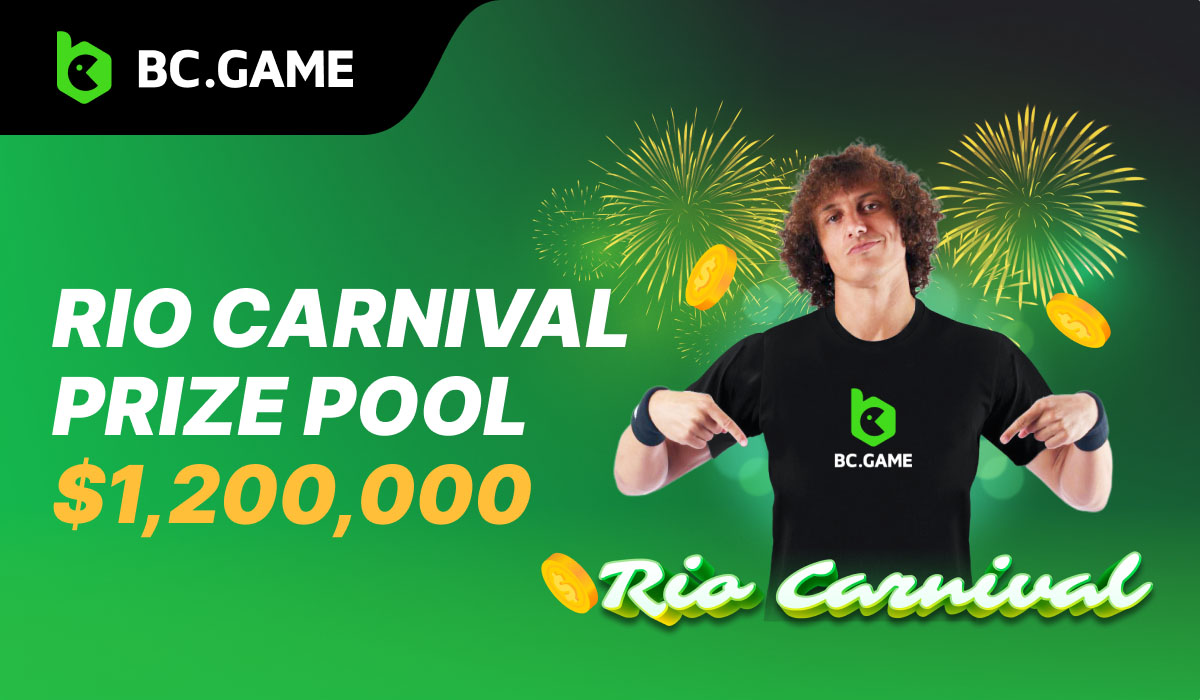 This February 17, 2023 (00:00 AM UTC+0), BC.GAME is officially launching its RIO Carnival event. Tons of exciting prizes await participating BC.GAME players, such as weekly cash prizes of up to $600 and the chance to win shares from the event's $1.2M grand prize pool.

Wondering how to score these awesome prizes? If you're up for the challenge, here's how you can win up to $1.2M and more from BC.GAME's RIO Carnival event below!

How to Participate in BC.GAME's RIO Carnival

To join BC.GAME's RIO Carnival event, you will need to earn RIO coins. The RIO coin is a special minted for the RIO Carnival, and earning more of these coins gives you a chance to win up to $1.2M from the event's whopping $1.2M prize pool!

How to Earn RIO Coins

RIO coins are primarily earned by wagers and deposits during the event. You earn 1 RIO coin for every $2 you wager. Every $1 you deposit also grants you 1 RIO coin, though all deposits must be wagered in order to get your RIO coins.

Furthermore, you can also earn RIO coins through login rewards, where you can gain around 5 to 10 RIO coins daily. Inviting friends to the event also grants you more chances of earning RIO coins.

Your account must have a verified mobile phone number to qualify for the event. As expected, your friends' invited accounts must also have verified mobile numbers to be considered successful referrals.

Only one account is allowed per user. Those using multiple accounts for the event will be disqualified from taking the event's winnings and bonuses. Players who attempt to use multiple accounts will also be automatically banned from participating in future BC.GAME events.

Where to Use RIO Coins

RIO coins are minted for the carnival event's prize pool. Once again, the more RIO coins you have, the higher your chance of winning shares from RIO Carnival's generous $1.2M prize pool. That said, these RIO coins don't simply exist as some sort of counter for the event.

After all, you can exchange the RIO coins you've earned for Bitcoin Dollars or BCD! Every 1 BCD equals $1, so if you redeem 5 BCD, you will receive $5 as a cash prize.

And at RIO Carnival, you can get the following cash prizes in exchange for the following number of RIO coins:

● 5 BCD for 1,500 RIO Coins (Redemption Count Per Week: 10 Times)
● 50 BCD for 10,000 RIO Coins (Redemption Count Per Week: 3 Times)
● 150 BCD for 28,000 RIO Coins (Redemption Count Per Week: 1 Time)
● 250 BCD for 48,000 RIO Coins (Redemption Count Per Week: 1 Time)

All in all, you can win up to $600 every week if you manage to redeem all the weekly prizes before they refresh. Redeemed prizes will be immediately reflected in your account.

You may visit the Weekly Prizes tab to exchange your RIO coins for any of the available weekly redeemable cash prizes listed above. The weekly redeemable cash prizes are refreshed every Friday (00:00 AM UTC+0) until the event finishes.

How Long Will RIO Carnival Last?

RIO Carnival ends on March 16, 2023, at 23:59 UTC+0. All RIO coins will be recalled at the end of the event, and players will also be unable to redeem the weekly prizes once the event comes to a close. Make sure to claim your weekly cash prizes on time!

To access the event, visit https://rio.bc.game/.